We haven't gone on a tour of the Great North ( northern Ohio, that is ) in quite a while so today's blog mateys is going to be about Kingwood Manor. One of my favorite public gardens. This
beautiful French Normandy styled estate is situated among 47 acres of lovely, lush gardens, right smack in the heart of Mansfield, Ohio...about 70 miles north of Columbus.
Kingwood Manor was built in 1926 for Mr. and Mrs. Charles Kelley King who made his fortune working in Mansfield with the Ohio Brass Company. He started as one of their first electrical engineers in 1926, and later led the company into new ventures ( such as manufacturing electrical fittings for trolleys ) until he eventually became President of the Ohio Brass Company.
The estate was designed by prominent Cleveland architect Charles Mack, who made quite a name for himself creating beautiful homes in Shaker Heights and Lakewood. Later on, he moved to Palm Beach, Florida and made his stamp on the architecture of that lovely city as well.
A year after his wife passed away in 1952, Mr. Charles King dedicated Kingwood Manor as a public garden.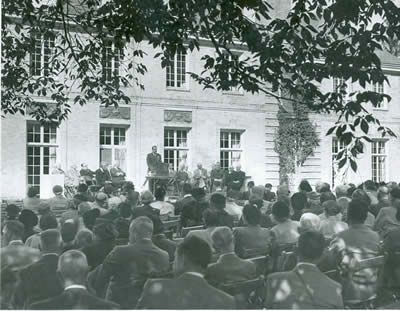 Dedication Ceremony, 1953
Much of the house remains unchanged from the late 1920s. It is open to the public for tours ( at $1 per person ) and contains, in one of its upstairs rooms, the
horticultural
library of Mr. King.
Today Kingwood Center continues to thrive as a educational and cultural center with special emphasis on ornamental horticulture and gardening. It is open to the public from April 14 through October 14. The gardens are FREE and there is a $5 ( per car ) parking fee.
Take a drive out there and enjoy this beautiful landmark!
Located at 900 Park Avenue West, Mansfield, Ohio.