Since Winter is such a cold season and one ideal for sitting by the fire and enjoying a good book, I'll give me readers a good book to sit by the fire with.....

The Royal Scrapbook

complied by the renowned Robert Opie.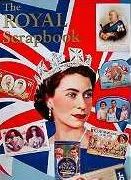 Robert Opie started collecting British memorabilia in 1963 and when his collection grew too large to house, he opened a museum. Today The Robert Opie Collection contains over 500,000 items dating between 1870 and 1970 which tell the tale of Britain's consumer society. These objects include everything and anything pertaining to brand images and retailing paraphanelia......bottles, tins, labels, signs, games, books, etc.
All the BEST of these nick-nacks were photographed by the author and gathered together in nine lovely large-size picture books....organized like a scrapbook. Hence, they are known as the Scrapbook series. Oh, and what a delight they are to look at!
There are so much to see on each page you can look at these books again and again and still notice something new. Below is an example from a page dedicated to the Royal family on tabloids. Other books in this series includes The Edwardian Scrapbook, The Victorian Scrapbook, The 1910s Scrapbooks, The Great War Scrapbook and The 1930s Scrapbook.
For more information about the Robert Opie Collection and these books visit the online shop at http://www.robertopiecollection.com/