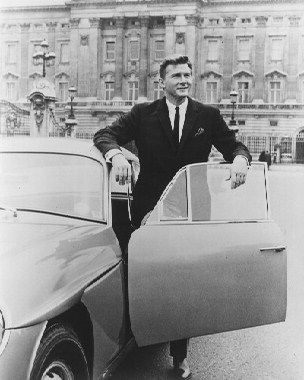 This is John Mannering aka The Baron - a dashing American antiques dealer with shops in London, Paris and Boston. A debonair man-of-the-world with smoldering blue eyes, an impeccable wardrobe, and lots of money...always a drawing feature.
When a jewel-encrusted Fabrège carriage sculpture gets stolen from his London shop and smuggled across to Europe, he calls on the police for help, but the police are unable to help him. The thief happens to work for an embassy and acts as courier for a European nation, and as such is under protection of "diplomatic immunity". This hasn't been the first art theft though, and the police are anxious to put a stop to them and recover the stolen goods.
Now where could the police find a man who'd be willing to track down these villains at his own risk, denying any relation to the government? Why, John Mannering of course!! The famous antiques dealer is probably just as anxious as the police to recover his stolen property and see that these criminals are behind bars.
Mr. Templeton-Green ( Colin Gordon ), a representative of the British Secret Service ( our Bond-type boss,"M" ) approaches him with this delicate subject and is pleased to find out that the Baron is tickled pink with the idea.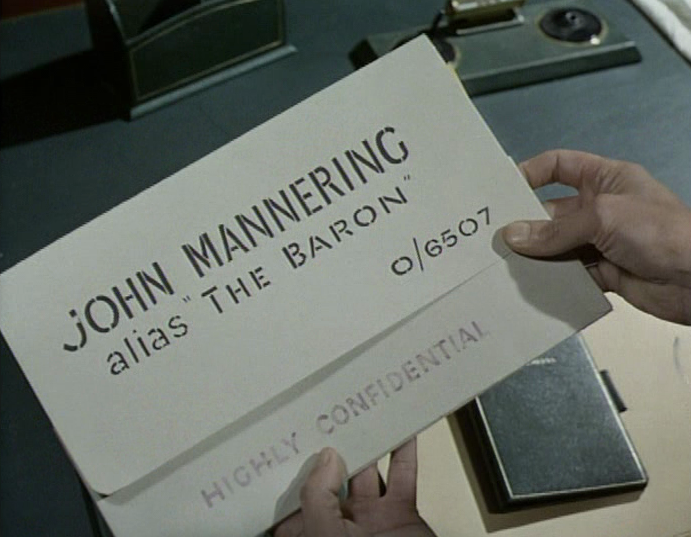 And so our hero begins his first mission - find out who is behind these thefts, put a stop to them, and recover the stolen merchandise. Equipped with a rather simple selection of SS spy tools, a ticket on the first plane out of London and the name of a contact to meet, the Baron sets forth.
This premier episode of The Baron is rather unusual in that he is "assigned" his mission. The subsequent adventures he tends to just stumble upon......
"Wait! Wait! Wait!, " says you, " Premier episode? I thought this was a movie you were describing. What are you talking about here? "
Good point! says I. A brief introduction shall be layed at your feet, but first let me finish the sentence...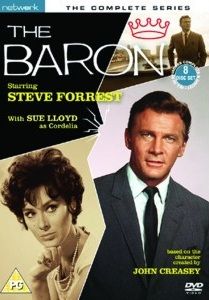 .....stumble upon, rather like the Saint.
The Baron was a television series that ran for one season ( 1966-1967 ) and featured Steve Forrest as the lead character, John Mannering, a wealthy Texas cattle baron turned international antiques dealer. ITC, one of Britain's leading television companies and developer of such hits series as Danger Man, The Thunderbirds, and The Saint, produced The Baron. This series was different from their prior ones, because it featured an American in the lead, and it was filmed in

c

o

l

o

r

! ( Making it the first British drama series to do so. )
Filmed in and around London, it featured action-packed tales of intrique, murder, and other notorious tv crimes....not always revolving around the art world though. Most of the villianous opponents spring from the high-society realm of the big city, but he occasionally ventures to more exotic locales like South America, Yugoslavia, Switzerland, and Paris ( only through film clips mind you. The show didn't have that big a budget ) to fight crime. Our man Mannering tends to "just happen" to be there when his help is needed, or as is often the case, acquaintances look him up and ask for his assistance in dealing with their troubles. In many of the episodes he is contacted by Mr.Templeton-Green to assist in a government matter - on the sly of course.
If you are unfamiliar with this series ( as I was ) then its a good idea to watch the first episode before you start on the others. It clears things up a bit. The Baron teams up with Cordelia Winfield ( Susan Lloyd, "The Impress File" ) on many of his adventures and sometimes with his assistant David Marlowe (Paul Feriss ), both of whom provide ample support for Mannering in solving his capers. The show also featured top talent like Bernard Lee, Edward Woodward, Lois Maxwell, Sylvia Syms, Yvonne Furneaux, and Jeremy Brett as well as the usual round of British tv character actors.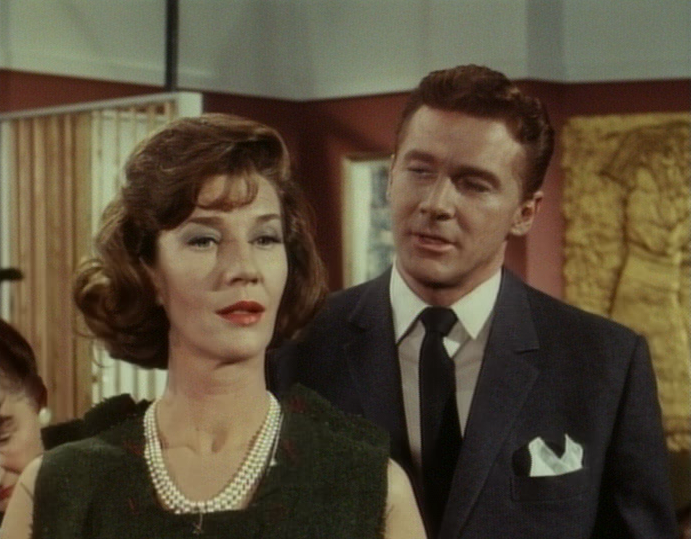 I wouldn't say the series was as entertaining as The Avengers or The Prisoner, but the episodes are easy to follow and include lots of action, and Steve Forrest's portrayal of The Baron is very engaging. He gives the character a certain American air - like preferring good ol' fisticuffs to automatic weapons when fighting the bad guys - while retaining that English elegance that makes other tv heros, such as John Steed and the Saint, so appealing. Driving around in his sporty silver Jensen CV8 Mark II ( equipped with a car phone ), and travelling to international locales for secret spy work, makes one think of him as a rather small-screen James Bond. But don't expect him to be as flirtatious with the women...the Baron is a tough guy.
Unfortunately, the show only lasted one season, which was released on DVD a few years ago. I can't help thinking the show could of been a tiny bit better but I haven't figured out just how. The acting talent is there, the plots are good, the scenery nice ( if you like drabby fall weather in the U.K ), so what's missing? I don't know. It doesn't really matter though, its good enough ..... and compared to some of the stuff that's playing on tv these days, its very entertaining.