Not that many people were very active in conservation during the turn of the century, but one man....my grand grandfather Henry Wood Elliott, was a fighter for the rights of the lovable ( and hefty sized! ) northern seals of Alaska. Today he is remembered more as an artist, but it was his lifework to make sure the seals were protected.
Known nationally as "Professor" Elliott, he was the leading authority on the Alaska fur seal during the late 1800s when he began a 35 year long crusade in Congress to save the seals from extinction.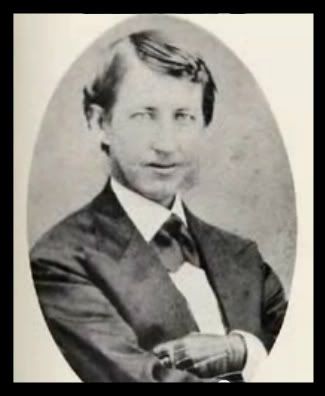 Elliott was born November 13, 1846 in Cleveland, Ohio, the oldest child of Franklin Rueben Elliott - owner of a seed and nursery business in Ohio and life-long friend and associate of horticulturist Dr. Jared P. Kirtland.
In 1862, Henry, at the age of 16, became ill and confined to home he spent his time painting fruits and flowers to illustrate a paper his father planned to submit to the Department of Agriculture on an upcoming trip to Washington D.C. As a reward for this illustrative work, Henry's father took him along on his visit to the nation's capitol.
Elliott was fascinated with the Smithsonian Institute and so his father arranged with secretary Dr. Joseph Henry for Elliott to work as his assistant. Although he had "desk space" at the Smithsonian for 14 years he was in fact rarely in Washington at this time. In 1864 he travelled to the Northwest Coast as a member of the Telegraph Expedition surveying team; joined as a member of the scientific corps in the Yukon party led by Major Robert Kennicott later that same year, and then from 1869-1871 was a topographical artist for F.Hayden's U.S. Geological Survey Expedition to document the landscapes of the
West.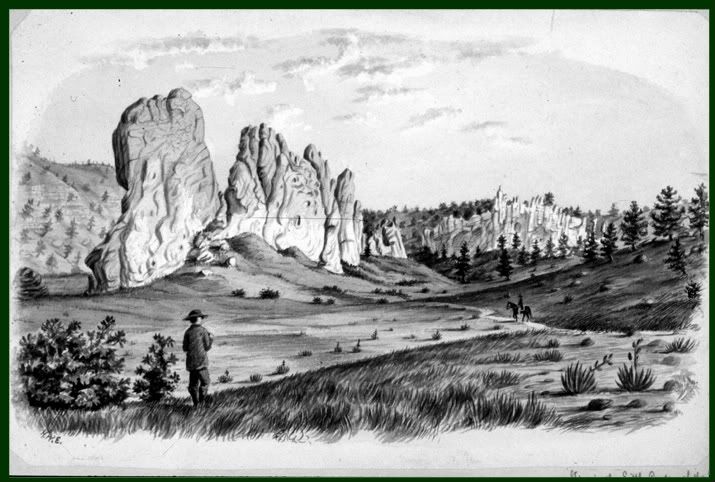 Thomas Moran was the chief artist on this expedition. Soon after he became a well known American landscape artist. Alas...Henry did not. Although he produced hundreds of works in his lifetime which are stored at the Smithsonian Institute, the National Museum of Natural History, and the Cleveland Museum of Natural History, he is not too widely recognized today.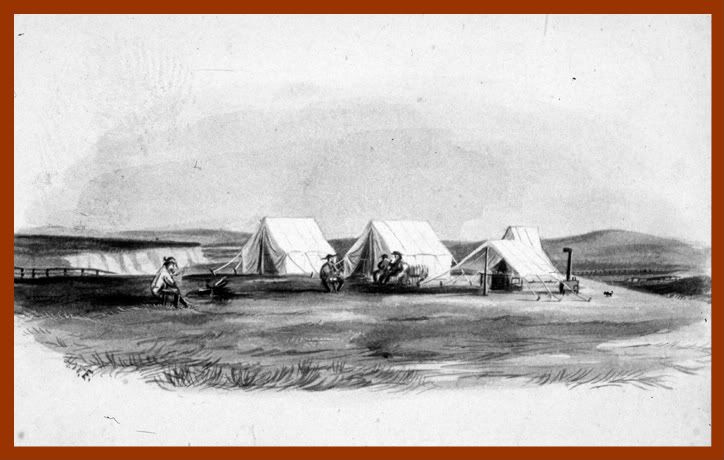 The Hayden Expedition Camp, HW Elliott 1870
This field experience though, earned him an appointment as Assistant Treasury Agent for the Pribolof Islands as well as an assignment from the Smithsonian to study the fur seal and other animals of that Alaskan island. The beginning seeds of his lifework.
For thousands of years the Pribolofs have been the breeding grounds of the fur seal. They spend 3-4 months of the year bearing their young, breeding and teaching their pups to swim.
The females and their pups, nor the male bucks, are never harmed. Traditionally, it was the young bachelor seals that were clubbed by the Aleuts and then skinned for their furs.
The Northern Fur Seals
The fur itself was not in very much demand outside of the Pribolofs until a machine was invented in the late 1800s that made mass removal of its prickly "guard hairs" possible. Then it became popular for fur coats...and a prime source of easy income for pirate seal killers.
Henry Wood Elliott had estimated the fur seal population to be 4,000,000 in 1872, but by 1875 these numbers had drastically declined due to pirate schooners carrying on open sea sealing as well as the indiscriminate killing on the part of the North American Commercial Company. By 1897 there were only 400,000 seals left. Millions of dollars were being made on pirated skins.
Seal Drove Crossing, HW Elliott 1872
With Elliott's support, Treasury agent Charles Goff ordered an end to that season's land killings and the U.S government arrested open sea sealers in the Bering Strait. But lo! this aroused a conflict with Great Britain since the seized vessels were mostly Canadian. The fur seal issue was brought before an arbitrational tribunal in Paris and the United States lost the case for interfering with Canadian and British pelagic ( open sea ) sealing.
Killing the fur seals near St.Paul, HW Elliott
For the next decade, Elliott appeared before Congressional commitees pushing them to negotiate with foreign nations to stop the killing of the seals. With pressure from national journals, the American Humane Association,, and the Camp Fire Clubs of America, public indignation was finally aroused in 1911. The United States, Great Britain, Russia, and Japan ( yes, by this time it had become an international issue ) agreed to a treaty which prohibited pelagic sealing and a mutual sharing of the proceeds of captured vessels. The Fur Seal Treaty of 1911 became the first international treaty to address conservational concerns.
Henry Wood Elliott's fight was over and the seals were saved. For ten years no killing would be allowed, and in that time the fur seals were once again able to breed and survive. He had devoted a large part of his time and resources in the defense of the seal and it had cost him dearly. His frequent and extended absences from his wife of 30+ years, Aleksandra Aleksandrova Milovidov ( part Russian, part Aleut ) and his ten children eventually led to a seperation.
In his later years, Henry Wood Elliott resided with his son Lionel in Seattle where he died in 1930 at the age of 84.
The Reef Point, HW Elliott 1872
In 2005 the US Department of Commerce produced a short video on Henry's crusade, called "Henry Wood Elliott : Defender of the Fur Seal". It can be viewed by clicking HERE.
More paintings of Henry's can also be viewed at the following locations...
NOAA Image Gallery
The Smithsonian Archives
National Museum of Natural History
The Northern fur seal population reached a high in the early 1950s but they have once again become endangered. Today, there exists but 1.2 million fur seals worldwide, 60-80% of which use the Pribolof islands as their home-base. A survey done in 2008 found the lowest level of pup population since 1916. Changes in the eco-system, pullution, killer whale preditation and net-entanglement have been contributing to their deaths, and their population is in a yearly decline.
Our Arctic Province, Alaska and the Seal Islands, by Henry Wood Elliott. New York, Charles Scribner and Sons. 1886
The Seal Islands of Alaska by Henry Wood Elliott, Kingston, Ontario. Limestone Press, 1976
Yellowstone and the Great West: Journals, Letters, and Images from the 1871 Hayden Expedition, by Marlene Merrill