East of Mansfield, Ohio in Lukas County stands an estate known as The Big House and its surrounding property, Malabar Farm. Once the home of Pulitzer Prize winning author Louis Bromfield, it is now a 990 acre working farm and state park. Which means of course, that it's free to the public. Hence, this post for my readers to acquaint themselves with another hidden gem of Ohio!
Louis Bromfield ( The Rains Came, The Green Bay Tree, Mrs.Parkington ) was a native of Richland Ohio and after spending 14 years away from his hometown he decided, in 1938, to return with his family to look for a parcel of land on which to built a home and settle down to live the life of a farmer. He found this land in Pleasant Valley; 200 acres with several houses already on it, and he named it Malabar Farm ( Malabar meaning "beautiful hills and valleys ) in the language of India ). Unfortunately, he purchased the land in the winter season and it was not until the snow melted in Spring that he saw just what he had bought....worthless land in which even weeds would suffrocate.
And so the life of a farmer was not to be for him, and instead he spent his life - and his fortune - working to make the land usuable once more. He succeeded. And Malabar Farm has become an inspiration for many a farmer. it was once, and may still be, America's most famous farm. While Louis Bromfield was alive up to 20,000 people visited a year to see his show property. Now, some 300,000 visitors from around the world come to Malabar Farm each year.
Situated on the property and open to the public daily for guided tours ( $4, $3.60 for seniors ) is The Big House, a sprawling 32 room estate built by Bromfield in 1940. Senators, congressmen, dignitaries, noted authors, and Hollywood stars all came to visit and stay at Malabar. A good friend of Louis, Humphrey Bogart, was married to Lauren Bacall in the foyer and they spent their honeymoon in the upstairs guest room.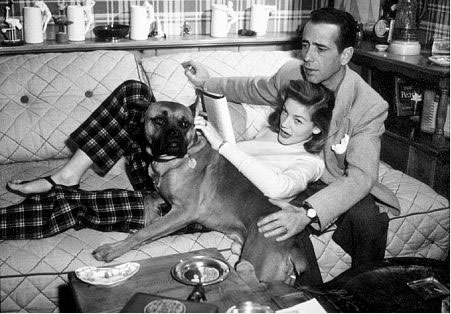 Louis Bromfield was born on Decemeber 27th, 1896 in Mansfield Ohio. After dropping out of college and trying his hand at various odd jobs ( writing reviews for stage shows, working for Time magazine ) he decided to concentrate on writing. He wrote several novels at first to get the feel of writing well, and then burned them all and set himself to writing one GOOD story. His first, The Green Bay Tree ( 1924 ) was an instand commercial and critical success and Possession followed in 1925, along with Early Autumn in 1926, which won the Pulitzer Prize that year.
Louis and his wife and three daughters lived for over a decade in Paris and during this period he wrote A Modern Hero, The Farm, and The Rains Came ( 1938 ) one of his most popular novels. It was when war broke out overseas that Bromfield decided to come home and purchased Malabar. While living there he wrote another one of his most famous books, Mrs.Parkington ( 1943 ) which was turned into a film with Greer Garson and Walter Pidgeon in 1945. A very good film it was too.
Louis Bromfield promoted his conservational work by lecturing all across America, writing numerous articles for agricultural journals and major publications, and by writing over 10 non-fiction works on his beloved farm and the progress he was making. He died on March 18, 1956 of bone cancer and heavily in debt.
Doris Duke, a famed philanthropist, helped donate money for the state to purchase Malabar Farm. It is still a working farm today and maple sugar trees abound, as well as corn fields. Ellen Bromfield Geld, Louis' daughter, and an author herself, continues on the conservational work of her father with her own farm, Malabar, in Brazil.
There are hiking and bridle trails, a campsite, a hostel, a haunted house ( home of the notorious Rose Ceeley ), a cave, waterfall, lakes for fishing, glacier cliffs, a beautiful view from Mt.Jeez, and lots of smelly cows all to be seen at Malabar State Park.
Located at 4050 Bromfield Road, Lucas, Ohio. Tickets for the house tour and farm tour can be purchased at the newly built visitors center. Open all year round. And don't forget to stop and eat at the Malabar restaurant on your way out!